Welcome to the Learn to Fly website
Learn to Fly is a microlight flying school in the South West of England specializing in Microlight Flying and Flying Lessons, Trial Flights and Flying Gift Experiences. We work with a number of national adventure gift experience companies, and sell flights directly through our website. All flights are sold as Ex 3 of the NPPL(M) syllabus so you will be taking your first flying lesson on your way to becoming a Private Pilot with microlight rating.
MICROLIGHTING
Flying a Flexwing offers you one of the most affordable and exciting ways to learn to fly and own your own aircraft.
We train on the latest aircraft built to the highest standards in the UK; Appointed as a Main Agent for P & M Aviation in 2007, Learn to Fly has been established since 2002.
About us and our aircraft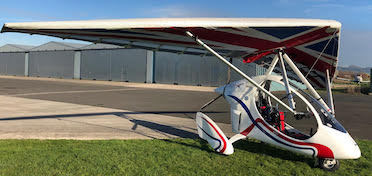 Our CFI Ian MacAdam has thousands of hours on microlight aircraft, so you can be assured of receiving excellent tuition on your road to becoming a fully fledged microlight pilot.
Flexwing Training is currently provided on a GT450, the perfect machine for getting your first experience in a Flexwing.
We also operate a PulsR, the first fully composite trike for demonstration flights and aircraft sales.
What will you see?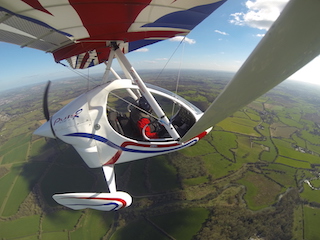 We are based at Henstridge Airfield in Somerset, allowing us to fly in scenic surroundings close to the coast in either a Northerly or Southerly direction. A normal one hour trial flight to the South takes in the Jurassic Coast from Weymouth to Swanage.
We can also fly to Poole Harbour and along the Bournemouth seafront and over to the Isle of Wight in a 2 hr 30 min out and return. If we fly North for 20 minutes we can over fly LongLeat, Centreparks, the rolling hills of Wiltshire, and further west the Somerset Levels and Glastonbury Tor.
Customer Comments
'I cannot recommend this experience enough, and urge anyone looking for the most amazing time to treat themselves immediately!' Julia C (Microlight Trial Lesson)
'A real adrenaline rush! Whatever you do DON'T MISS THIS EXPERIENCE!' Barry H (Microlight Trial Lesson)
Read more customer recommendations
Watch the movie by Ed Bowyer, former student and GT450 syndicate partner