About us
Ian MacAdam (Chief Flying Instructor)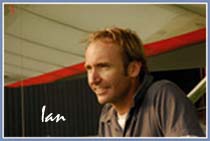 Ian established Learn-to-Fly.co.uk as an independent flying school in 2002. Ian has been flying hang gliders and microlights since 1987. In 1992 he started flying light aircraft and went to America to obtain his commercial pilot's license (CPL), where he became type rated on twin engine aircraft and seemed destined for a career as an airline pilot!
However, adventure got the better of him and he went to Africa in 1993 to establish Batoka Sky, the microlighting company that offers pleasure flights over the Victoria Falls. The company is still going strong to this day! Ian returned from Zambia in 1996 to experiment with more conventional lines of work whilst remaining an active hang glider and microlight pilot.
In 2002 He decided that a nine to five job wasn't for him and returned to the business of microlight flying with fresh enthusiasm. Ian has always maintained his passion for hang gliding, and wants to show people what it is like to soar high above the countryside in a tandem hang glider; in 2005 he bought the ATOS VX and started the UK's first 'BHPA approved' Air Experience School!
The Crew
Steve Smith (Tug Pilot):
Steve is longest seriving Tug Pilot for Learn to Fly and is always willing to lend a hand on his day off. He has been flying for a long time, starting with microlights in 1984.
So what is TUGGING?
'Tugging' refers to the practise of pulling up a glider or hang glider using another aircraft, in our case, a microlight. It is a skill in itself, and all tug pilots undertake training in order to become BHPA rated. Tugging is done on a voluntary basis because they love the flying of course, but we'd like to express our appreciation for these guys. Without them, no hang gliding!
Why Learn-to-Fly?
29 years flying experience!
Based in the beautiful South West of England, at Henstridge Airfield in Somerset.
5 days a week, most weekends included, subject to weather and by appointment
Friendly instructor with a wealth of knowledge and experience!
Learn to Fly at your own pace!
Committed to helping you get your license in a time frame to suit you
Availability
March - November, 5 days a week, except Wednesdays and Sundays.
We often fly until sunset!
Most Weekends and Bank Holidays included!