MICROLIGHTING
Learn to Fly operates P&M's hottest ship, the PulsR, the first fully composite trike for demonstration flights and aircraft sales.
Appointed as a Main Agent for P & M Aviation in 2007, Learn to Fly has been established since 2002.
Flying the new PulsR to Isle of Wight 7th April 2019.
The PulsR offers a number of advantages to the conventional flex-wing.
The composite trike is enclosed with a canopy design that keeps the occupants much warmer than a conventional trike.
It is much wider and has fully adjustable seating, rear seat braking, roll trim and elctric pitch trim with fully slow airpseed around 50mph to fully fast 95mph.
As a "grand tourer" this trike is hard to beat! Learn to Fly will be developing tour 'n train itineraries this summer (2019) with flights to Scotland, Ireland, France, Italy, Greece, Spain and Portugal.
Watch this Space!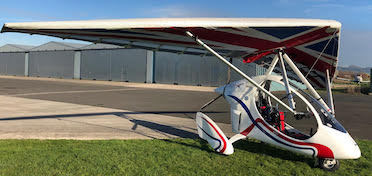 Where are we?
We are based at Henstridge Airfield in Somerset, allowing us to fly in scenic surroundings close to the coast in either a Northerly or Southerly direction. A normal one hour trial flight to the South takes in the Jurassic Coast from Weymouth to Swanage.
We can also fly to Poole Harbour and along the Bournemouth seafront and over to the Isle of Wight in a 2 hr 30 min out and return. If we fly North for 20 minutes we can over fly LongLeat, Centreparks, the rolling hills of Wiltshire, and further west the Somerset Levels and Glastonbury Tor.
Watch the movie by Ed Bowyer, former student and GT450 syndicate partner
Customer Comments
'I cannot recommend this experience enough, and urge anyone looking for the most amazing time to treat themselves immediately!' Julia C (Microlight Trial Lesson)
'A real adrenaline rush! Whatever you do DON'T MISS THIS EXPERIENCE!' Barry H (Microlight Trial Lesson)
Read more customer recommendations